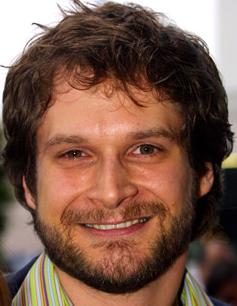 Bryan Fuller (b. 1969) was the creator of Pushing Daisies, and served as executive producer with Brooke Kennedy, Bruce Cohen, Dan Jinks, Peter Ocko and Barry Sonnenfeld. He wrote the first episode, "Pie-lette", the third episode, "The Fun in Funeral", and the second season premiere, "Bzzzzzzzz!".
Fuller's most well-known credits are as the creator of the Showtime series Dead Like Me and as a co-creator of the cult favorite series Wonderfalls, which co-starred Daisies star Lee Pace and guest star Diana Scarwid. Prior to Daisies, Fuller was a contributing writer and co-executive producer of the NBC hit Heroes.
Creating Pushing Daisies
The original idea for Pushing Daisies grew out of an unused story for Fuller's Dead Like Me series. In the proposed episode, Grim Reaper George "was going to find out she wasn't able to collect some souls because somebody was coming along and bringing people back to life [with a] touch," Fuller says. [1]
He was also partially inspired by one of his favorite movies, the 2001 film Amélie. As Fuller explains, "Really sad things happen in it, but you never get bogged down in the sadness. Like Daisies, it's really about human kindnesses." [2]
Episodes Written
Comic Book
TV Series
External links
References
↑ Shawna Malcolm, "Flower Power", TV Guide, October 22-28, 2007.
↑ Shawna Malcolm, "Flower Power", TV Guide, October 22-28, 2007.
Community content is available under
CC-BY-SA
unless otherwise noted.