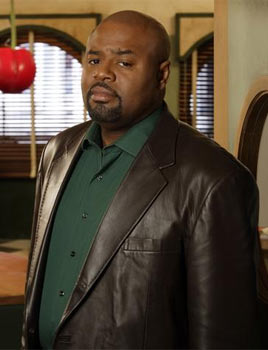 Kenneth "Chi" McBride plays Emerson Cod on Pushing Daisies. His nickname is pronounced 'shy' (as in "Chi-Town").
McBride has been acting since he landed guest spots on such shows as Fox's "In Living Color" and NBC's "The Fresh Prince of Bel-Air". He also had some success with a song parodying Mike Tyson's marriage to Robin Givens in the 1980s. He had a starring role on "Boston Public" written by David E. Kelley, as well as guest spots on "The Practice" and "Boston Legal" also by Kelley. He was a recurring character on the first season of "House MD" and has appeared in "I, Robot" with Will Smith and Steven Spielberg's "The Terminal".
Quotes
Responding to a question - What excites you most about the series?
I really love the cast; I couldn't pick a favorite. I have great chemistry with Lee [Pace] and love the chemistry we share. Emerson is a guy with questionable morals. His main goals are to make money and go home. Lee's character is more empathetic but distant due to his power to bring the dead back to life; he's damaged and looks to Emerson as a father figure. I really like the way [Bryan Fuller] juxtaposes the way Emerson looks at life with the way Ned does. I knew what this series could be when I read the script and, as soon as I saw Barry [Sonnenfeld] in the room, I knew what it would become. It turned out even better than I imagined.
Where is he now?
After the cancellation of Pushing Daisies, Chi joined the cast of a FOX series entitled Human Target. He was then part of the main cast of Golden Boy, and in 2013-4 was a regular recurring guest star on Hawaii Five-0.
External links
Community content is available under
CC-BY-SA
unless otherwise noted.