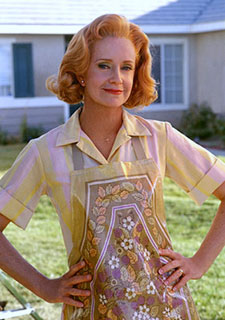 Swoosie Kurtz plays Aunt Lily on Pushing Daisies.
Kurtz got her start in acting in the 1970s, when she appeared in shows like As the World Turns, Mary Tyler Moore's Mary, and Kojak. In the 1980s she appeared in Bright Lights, Big City with Michael J. Fox, Wildcats with Goldie Hawn, and Against All Odds with Jeff Bridges. In the past couple of decades, she has appeared with Jim Carrey in the comedy Liar, Liar, with Jake Gyllenhaal in Bubble Boy, and had small roles in Touched by an Angel, ER, and The Outer Limits.
Where is she now?
Ever since the cancellation of Daisies, Swoosie has been very active in the television world. She has had roles on Heroes, Desperate Housewives, and Law & Order: SVU. She doesn't need to wear an eyepatch for any of them, unfortunately. For the last few years, she's been part of the main cast on Mike & Molly as Molly's mom.
External links
Community content is available under
CC-BY-SA
unless otherwise noted.